In my chosen career I'm fortunate enough to wear three hats, Diversity & Inclusion Consultant, Business Management Coach and Research Academic. It's given me an insight into the challenges of objectively assessing and categorising individual, team, and organisational performance. The most consistent topic that rears its head the most is, 'How do I understand my best asset, my people?'
I understand why this question can be so complex, we all have different roles, goals, motivators, and personal lives. Trying to draw up any form of categorisation or 'stack-ranking' when it comes to personnel can feel impossible. When we add in the complexities of ensuring we also remove our unconscious and conscious biases, it can seem like an impossible task to complete. As a representative of a minority, the LGBTI+ community, I've been on the uncomfortable end of individual and organisational biases way too many times in my career. I was determined to ensure that I didn't bring my own issues to the table. I took an optimistic approach and examined the various management models, HR Tools, and general theories and found that all were lacking in some way. For the majority there was a common theme, they assumed that there was a level of uniformity in people, their roles, objectives, and structures. They met a very specific set of goals but none of them gave a more holistic snapshot of wider a team, group or organisation.
The key to any measurement process is objectivity supported by tangible measures and transparency. In my previous engagements I found that there was at play two influences, how someone performs in their assigned role and how they approached their work and engagement with the team and/ or organisation.
If everyone was assessed based upon their own specifics using clarified and consistent considerations, it becomes possible to build a holistic picture where I was able to generate a broader view. I scored an individual's performance and fit for engagement and capability founded upon an evidence backed score of 1 to 10. If the results for each of the team members was then inserted into a very simple grid, I was able to develop a quartile-based model as shown in the illustration below,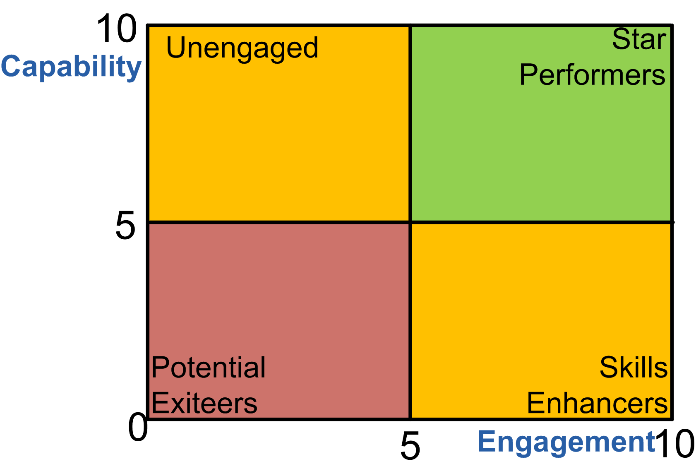 Fig. 1 – The Capability-Engagement Grid
In measuring capability its crucial to score an individual against their role and, if available, their job specification. I on the scale is an indicator that the individual is not meeting any deliverables to the required through to 10 where the individual meets them all to the desired quality, schedule, and impact. When scoring capability, it must always remain objective, evidence based and separate from the performance of others. It's important to be comfortable if challenged on the score using evidence as the criteria.
Engagement is always the more difficult of the two to be assessed. It must be based upon the individual, their role, the responsibilities and needed levels of engagement. Considerations to be leveraged when scoring engagement can include timekeeping, schedule dependency, engagement with others, internal and self-driven training, overall communications, and desire for promotion/ development/ growth. It is key that the considerations are documented in advance and then used in a consistent manner for all individuals being assessed. Again, where measures are being used, you must be able to evidence this, it cannot be based upon an opinion or external influences.
As you build your graph, you'll notice that individuals will fall into one of the four quarters shown in the illustration above. Unfortunately, if you find that everyone falls into the 'Star Performer' category you've probably not been objective enough. That's not to say that it won't happen, it just unusual if it does. Let's look at each quarter in a little more detail,
Star Performers is the performance category where in an ideal world, everyone would fall. An individual that falls into this category should be nurtured and their skill s development enhanced in order that they remain with you. Star Performers might require a little more attention in order to retain but they're great employees.
Skills Enhancers are the future Star Performers, they're dedicated, hardworking, team players who are either still in the process of skills development or possibly, the right person, wrong role.
The Apparent Unengaged are a more sensitive group to manage than the Skills Enhancers in that they're great at what they do, they're just lacking motivation and/ or engagement. It may be that their personality limits their engagement, they may have one or more external influences, or they may just represent those great consistent performers who will, or never want to lead. Try understanding what floats their boat or what might be missing for them that is holding them back from being Star Performers.
The Potential Exiteers are simply those that are neither performing from a task or engagement with others perspective. There may be real reasons why they fall into this group. New team members, the newly promoted, they might have a strong external influence that is unfortunately limiting them. If there are no external influences and they're not new in their role, it may simply be time to look and see if they're right for the role, team, or company. Unfortunately, this is the pool from which we look towards when optimising staffing levels or in order to change performance and output. If you have a lot of fairly new, yet well trained individuals in your group, then it may be that this is an indication that the recruitment/ development process has some issues.
If each individual is assessed individually and objectively it is easy to build up a picture of a wider group of individuals. I've used this technique to assess everyone from the CEO through to the customer service representative. (Each role is equally valid). A complete picture will start to highlight trends such as the middle-management team not performing or that with enhanced time served, individuals slip from top-right and back towards the bottom-left. Remember, it's a hard consideration but non-performers may be failing due to issues within the organisation and not through any fault of their own.
Most importantly, I've found this to be a great way to start the process of eliminating bias and equal ling the playing field via the exclusion of personal characteristics. Gender, age, disability, sexuality, ethnicity, etc can be removed from the equation. A simple graph showing an organisational snapshot is an easy way to bring to the management table any people dynamics that be either supporting or even limiting growth. Execs always love, simple pictures.
About the Author
Rachael Evans is a Business Management Consultant, former FX Trader, Senior Vice President at Bank of America, Interim COO of the Bank of London Middle East, she has consulted for HSBC in London, Credit Suisse and UBS in Switzerland, and Morgan Stanley in New York as well as supporting numerous other international organisations across the globe for over 25 years. She is a published business author who has completed multiple post-grads, is currently researching for her PhD and she adores supporting SME's in identifying and adapting to the changing business world. Rachael's Management Research was recognised with her appointment as a Fellow with the UK's Chartered Management Institute. Away from work when not spending time with her family, she is a very bad Jazz Guitar player and she collects and uses 1950's to 1970's portable typewriters.